Remembering Apollo 11 and looking forward into the next 50 years: why and how will be rewarding to participate in the creation of the cislunar economy.
JULY 21, 2019 | HOLDUDVAR, BUDAPEST | 13:30 - 20:00
About
50 years ago Apollo 11 landed on the Moon and Neil Armstrong set foot on the surface of a celestial body other than Earth. We will remember the Apollo program and pay tribute to its historical events.
The same time, we look into the future and discuss new concepts and business opportunities in the emerging cislunar economy, both in the short (next 5 years) and the long (up to 20-30 years) run.We will touch the current status of the programs of big Space Agencies - NASA, ESA, China, Roscosmos, Jaxa (Japan), ISRO (India), - as well as various private initiatives like the Google Lunar XPRIZE, The Moon Race, Moon Village Associaton. Besides marketing and investment opportunities the inspirational, educational and PR aspects will be discussed as well.
Well-known experts and key players of the private sector give valuable insights of what is happening right now and what are their expectations for the future of the cislunar economy.
Organized by the Hungarian Interplanetary Society and Puli Space Technologies, in partnership with the Moon Village Association, this unique event will take place in the Moonyard ("Holdudvar") on Margaret Island, Budapest.
Program
Details*
*The organizers reserve the right to make changes to the event program!
13:30
Registration, welcome coffee
14:00
Welcome!
Message from Ms Orsolya Ferencz, Ministerial Commissioner for Space Activities, Hungary
Sándor Balogh, Tibor Pacher
14:05
Remembering Apollo 11
Tibor Pacher
14:10
Humans on Mars in the 2030ies?
András Sik
14:30
Inspiration Moon & Mars: European Rover Challenge
Lukasz Wilczinsky
14.50
Preparing for Moon&Mars Missions: Analog Planetary Research
Gernot Grömer
15:10
Moon Rush - Plans of Space Agencies and Private Initiatives
Tibor Pacher
15:20
Short Video Messages
15:30
Coffee break
16:00
Making the Moon Accessible to the World
John Thornton (via Skype)
16:20
Forward to the Moon - ESA perspective on lunar surface exploration
Matyas Hazadi
16:40
The Moon Village Association - Moon Markets
Giuseppe Reibaldi, Oleg Ventskovsky
17:10
Space finances
Christopher Seabolt
17:30
Space activities and private financing
Panel discussion
18:30
Closing remarks
Sándor Balogh, Tibor Pacher
18:35-
Hors d'Oeuvres Reception, networking
Speakers
András Sik

Director of Geoinformatics Services at Lechner Knowledge Center / Vice President of the Hungarian Astronautical Society

After many years interested in the research of Mars, planetary GIS and remote sensing, now I am dealing with geospatial technology and applications, for example aerial image processing, building information management, interactive webmaps, LIDAR data acquisition, location-based databases, public utilities, risk assessment, spatial planning, 3D visualization and others.

Lukasz Wilcynski

PR/Communication Expert in new technologies and space sector / Founder and Co-organizer of the European Rover Challenge

President of the Planet Partners, author and co-organizer of the European Rover Challenge project. Professionally, he has been associated with the communication industry for 15 years. Specializes in strategic creation, brand communication and measurability of the effects of activities. Commentator and expert on the space sector in media. Laureate of the award of Tiuterra Crystal 2017 (a crystal containing fragments of Earth and Mars) presented annually by the Austrian Space Forum to the personalities of the space sector for merits in the promotion and development of space topics in the world. In the years 2008 - 2013 European Coordinator of the organization The Mars Society.

Gernot Groemer

Director of Austrian Space Forum, Analog Astronaut

Born 1975, masters degree in astronomy, PhD in exploration astrobiology (Leopold-Franzens University, Innsbruck), International Space University summer school (Houston/Texas), lecturer at the International Space University and the University of Innsbruck. Member of the Space Generation Advisory Council (Board of Mentors). Flight Crew 37th ESA Parabolic Flight Campaign. Programme Management Group AustroMars and PolAres. Teaches and does research at the Univ. Innsbruck in the field of human Mars exploration and Astrobiology. Dr. Groemer led more than 10 Mars expedition simulations, including the Northern Sahara, Utah and southern Spain and leads the development of the experimental spacesuit simulator Aouda.X.

John Thornton

Chief Executive Officer, Astrobotic, Inc.

John has grown Astrobotic's business of delivering affordable space robotics technology and planetary missions by attracting technology contracts, equity investment, and payload customers. Thornton is coordinating the team and alliance for Peregrine's development and the first mission. At Carnegie Mellon, Thornton led the build of Scarab, a NASA concept robot for lunar drilling, and the first robot to carry a prototype of NASA's RESOLVE payload. He founded Carnegie Mellon's Advanced Composites Lab, a research, training, design, and manufacturing lab specializing in high performance, lightweight composites for robotics.

Matyas Hazadi

Systems Engineer, ESA

Matyas is currently a young graduate systems engineer at the European Space Agency in the Lunar Resource Lander team. Previously he was working as a systems engineer in the automotive industry and as an automation engineer in several other industries. He has a background in electrical engineering, specialized on industrial automation and robotic systems during his studies at the Óbuda University, Budapest. He is also leading the electrical engineering developments in Puli Space where he is volunteering since 2011.

Giuseppe Reibaldi

President, Moon Village Association

Giuseppe Reibaldi is a Senior Space Policy Adviser. Apart from being President of the MVA he also acts as the Executive Secretary of the "The Hague Space Resources Governance Working Group" which started under his initiative in 2015. Moreover, he is, since 2013, the Director of Human Spaceflight at the International Academy of Astronautics. For 35 years (1977-2012) he worked for the European Space Agency covering different functions and fields. Giuseppe has introduced Space Policy in the Italian Universities in the 90s and he teaches in Turin for the 2017/2018 academic year. He is the author of more than 80 publications, as well a book about the International Space Station Utilization, translated in Italian, English and Greek.

Oleg Ventskovsky

Moon Market Development Manager, Moon Village Association

Oleg is Director of the Brussels-based European Representation of the leading Ukrainian space company – State Enterprise "Yuzhnoye Design Office" since 2001. He was formerly a team member at the Mission of Ukraine to the EU in charge of the Science & Technology and Space cooperation among other things. Graduated from the Kiev Polytechnic Institute in 1983, he then did a PhD and worked as an university teacher at the same educational establishment. He was Vice-President for International Relations at the International Science and Technology University, one of the first private universities in Ukraine, before moving to Brussels. Oleg is a member of the International Academy of Astronautics.

Christopher Seabolt

Venture capital professional - early stage, focused on Central and Eastern Europe

Chris holds approximately 30 years of venture capital and operational experience in early-stage growth companies, most recently with DTSI (formerly T-Venture), Deutsche Telekom's captive corporate venture capital subsidiary, where he sourced and completed numerous transactions in the technology sector in both the U.S. and Europe. Prior to this, Chris was responsible for the highly successful turnaround and divestiture of Central Europe Telecom Investment (CETI) LP assets. He was also previously associated with the Silicon Valley office of Patricof & Co (now APAX Partners) as well as the in-house LBO fund of Kidder, Peabody & Co. in New York. Prior positions also include CFO of Solvo Biotechnology Rt., a Hungarian biotech start-up and Hild Real Estate Investment, CEE's first large-scale life annuity provider.. Chris is also a mentor at ESA BIC.

Tibor Pacher

Chief Executive Officer, Puli Space Technologies

Tibor, trained as a PhD physicist (Budapest, Heidelberg), has a 10-years academic career, with numerous publications on General Relativity, Cosmology, and Quantum Chemistry topics. He has also a solid background in management and financial accounting consultancy, and conducted many projects in 18 countries on 4 continents. He participated in ESA's Infrared Space Observatory (ISO) mission, and created "MiniSpaceWorld - Moon", a model railroad style installation in the Futura Science Center in his home town in Hungary. Since the foundation of Team Puli in 2010 to participate in the Google Lunar XPRIZE, he is working relentlessly on Hungary's first lunar mission. His personal goals tied to New Space and Moon Village are to inspire people all over the world to look at the Moon differently and to show that everyone can participate in cutting-edge engineering and science.
Registration
Available tickets
Participation is free. However, we appreciate very much Your finacial support at Donate.
Singing Clarinet

Suggested donation 10,000 HUF

limited availability

Scholar/Student

Suggested donation 6,000 / 3,000 HUF

limited availability

Company

Suggested donation 16,000 HUF

available
Register here
*Participation is free. However, we appreciate very much Your finacial support at Donate.
Venue
The "Holdudvar" (Moonyard) is a well-know event location in the southern part of the Margaret Island (Margitsziget). Served as a restaurant and even casino earlier, the building was fully renovated in 2017, following the original plans of Miklós Ybl, one of Europe's leading architects in the mid to late nineteenth century as well as Hungary's most influential architect during his career.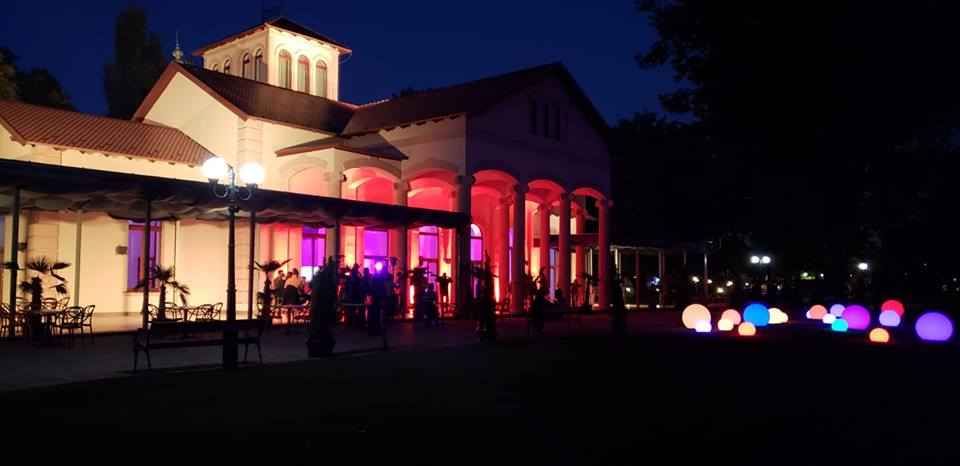 Contact
Do you have questions? Just drop an email at office at pulispace dot com.
Map